So having bombed rather cataclysmically in the USA Steven Spielberg's adaptation of Roald Dahl's acclaimed book got its UK release and last weekend I got the chance to go and see whether this live action adaptation could live up to its source material.
And the result is, well, fine. In the hands of such an experienced blockbuster director there was very little threat of the film being a disaster of Pan-esque proportions (There's no Garrett Hedlund chewing the scenery with an atrocious accent). Spielberg has a gift of creating visual flair in moments where other directors would struggle and his management over certain scenes in the BFG is reminiscent of his previous, better work. However there is undoubtedly a pacing issue in the BFG that grinds the action to a half on numerous occasions and the structure of the original novel has had a somewhat detrimental effect on this adaptation. As pleasing as the sequence that takes place in Buckingham Palace is within the film its timing within the overall narrative creates a feeling of disjointedness when watching the movie. Mark Rylance is atypically wonderful as the eponymous giant capturing his good natured silliness and mastering his peculiar vocal rhythms to great effect. Ruby Barnhill also delivers a terrific performance as the young heroine Sophie, a demanding, fierce, young orphan who witnesses the BFG late one night and is whisked away to giant country. The friendship between the BFG and Sophie is what carries the heart of the film and even though at times it feels like the developing relationship stalls repetitively for the benefit of the plot the eventual thematic pay-off is highly worthwhile and filled with pathos. There are also welcome performances from the ensemble including Penelope Wilton, Rafe Spall, Rebecca Hall and Jemaine Clement.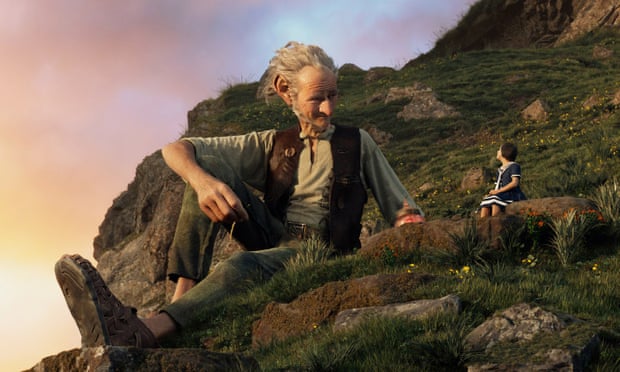 Janusz Kaminski does a great job in capturing the scale of the giant's world and his work with Spielberg often makes the optical illusions truly spellbinding however the film's reliance on CGI does at times make the artificiality of the landscapes rather underwhelming. Following John Favreau's terrific Jungle Book adaptation earlier this year the bar for creating detailed virtual plateaus has been raised and Spielberg's film, though at times beautiful, is undercut by its inability to be truly uniquely striking. John William's music is suitable for the film without being outstanding and will be something of a footnote in his library of terrific work.
The BFG is a charming, fun frolic and an inoffensive translation of Roald Dahl's novel. It will neither be remembered as a travesty or a classic, but a film of potential, occasional beauty, terrific performances and a handful of well derived laughs. Perhaps most noteworthy of all is Spielberg's ability to turn flatulence into a form of terrific comedy in the films funniest sequence without it feeling cheap and immature (Well, too immature). All in all, a fun time for all ages. Just not one I'll be revisiting anytime soon.
3/5
Dir: Steven Spielberg
Scr: Melissa Mathison
Cast: Mark Rylance, Ruby Barnhill, Penelope Wilton, Jemaine Clement, Rebecca Hall, Rafe Spall, Bill Hader 
Prd: Steven Spielberg, Frank Marshall, Sam Mercer
DOP: Janusz Kaminski
Music: John Williams
Country: USA
Year: 2016
Run time: 117 mins
BFG is out now in UK cinemas.