Kenneth Lonergan's built up a reputation as a terrific wordsmith and a talented filmmaker. A playwright by trade Lonergan made the jump to feature films with 2000's You Can Count on Me, which resulted in two Oscar nominations and a lot of critical praise. He got a lot of work as a writer in the resulting few years, including penning the screenplay for The Adventures of Rocky and Bullwinkle (Though for some reason they've left that of Manchester By The Sea's advertisement posters). His second film, Margaret, took seven years to release following a creative clash between Lonergan and the studio, resulting in a litigation battle over the movie. With that unpleasantness now behind him Lonergan's newest film has garnered innumerable praise since its release and needless to say this anticipation had left me with high hopes of what was to come.
Lee Chandler (Casey Affleck) is a janitor living an isolated existence in Boston who finds out that his brother, Joe (Kyle Chandler), has collapsed and died. He returns to his home town of Manchester-by-the-sea to settle the funeral arrangements. Lee discovers he has been named guardian to his nephew Patrick (Lucas Hedges), but is unwilling to stay in the town due to past events that drove him away.
Casey Affleck is receiving riotous praise for his performance as Lee and they are well deserved. Lee's isolation and deadpan demeanour masks an enormous rage which Affleck communicates via subtle gestures and his character's desolate body language. Even when surrounded by others Lee seems alone, and more than happy to be that way. Pushed out of his isolative state into a role as a guardian to a wayward teen, played with arrogant glee by Lucas Hedges, the pairs disagreements, conflict and attempts to reconnect are fascinating and deeply expressive of their inner sorrow. Lee's ex-wife Randi (Michelle Williams) appears in both flashback and the present day and without moving into spoiler territory the two share a scene that is hauntingly visceral in its emotional purity. Both Affleck and Williams pull on all their skills as performers to deliver one of the best scenes of the year that will labour in viewers minds long after they have left the screening. Their success is aided by Lonergan's script which manages to blend comedy and tragedy together in a manner few other screenwriters can. Most sequences are accompanied by the brutal music of Lesley Barber, which haunts the film with an uneasy pulse of strings loudly bellowing over the action of the movie in an almost operatic display.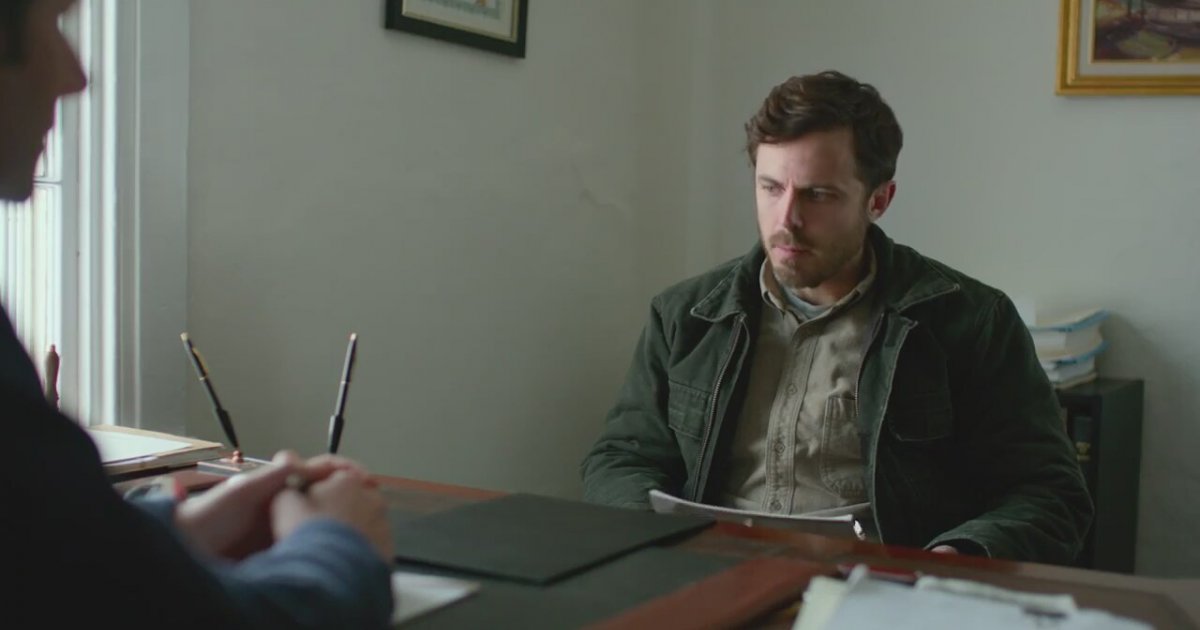 Manchester By The Sea isn't for everyone, following the screening numerous other patrons around me discussed the movie and found it depressing, or/and unsatisfying. It's ending isn't designed to please, and the more I let it gestate in my mind the more I appreciated and admired its bravery. With a range of career best performances, Lonergan's wonderful script and Barber's beautiful score it appeases me to say that Manchester by the sea is more than worth your time.
5/5
Dir: Kenneth Lonergan
Scr: Kenneth Lonergan
Cast: Casey Affleck, Kyle Chandler, Lucas Hedges, Michelle Williams, Matthew Broderick, Gretchen Mol, Tate Donovan
Prd: Matt Damon, Kimberly Steward, Chris Moore, Kevin J. Walsh, Lauren Beck
DOP: Jody Lee Lipes
Music: Lesley Barber
Country: USA
Year: 2017
Runtime: 137 Minutes
Manchester by the Sea is out now in UK cinemas.